Date:
November 8, 2013
Venue:
Richmonde Hotel, Eastwood, Quezon City
Click here to view venue map

Invitation
Referring to the skills, technologies, applications and practices for continuous iterative exploration and investigation of past business performance to gain insight and drive business planning, Business Analytics is now a hot topic, and has in fact been identified among the top 10 strategic technology trends for 2013. Since analytics is deeply rooted in Operations Research (OR), it is but fitting that the 2013 National Conference of the Operations Research Society of the Philippines carries the theme "Keeping Pace with the Business Analytics Revolution."
The conference aims to provide a forum where:
• Researchers can present their findings on trends in Business Analytics;
• Practitioners can share experiences on the role that Business Analytics and Operations Research, in particular, play in driving business decisions;
• Academicians can present efforts of integrating Business Analytics into the curriculum of various business and science courses;
• Academician can present researches on advances in the theories and methodologies of Business Analytics and OR;
• Participants can gain insights from others who have benefited from the use of BA and OR to optimize business performance; and
• Everyone will be given the opportunity to exchange ideas on how Analytics and OR can help solve various business issues.
Keynote and Invited Speakers
Prominent OR Practitioners and academicians have been invited by the organizers to deliver keynote speeches and to participate in panel discussions. Speakers and delegates from all over the country will share their work in the parallel sessions.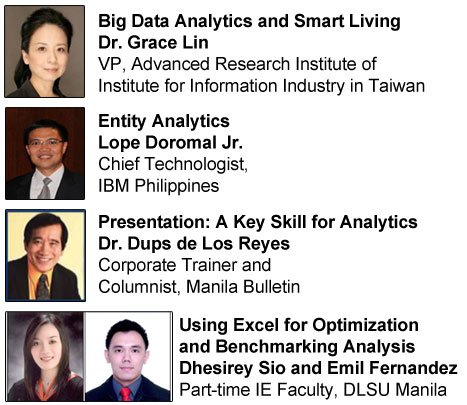 Conference Topics
Submissions of papers aligned with the Conference Theme in the following areas are welcome: Banking and Finance, Mathematical Programming, Corporate Strategies, Modeling, Decision Support Systems, Management Information Systems, Distribution Management, Marketing, Energy, Production Planning, Engineering Production Control, Expert Systems, Project Management, Financial Investment, Queuing, Forecasting System Dynamics, Health and Welfare Services, Transportation, Inventory Control, Innovation/Knowledge Economy, Supply Chain Management, Customer Relationship Management, Complexity Theory, Soft Methodologies, Business Analytics as part of the curriculum.
Papers reporting original and unpublished research results and experience are solicited. Guidelines for abstract submission are in the following sections.
Abstract Submission
The abstract should be typed in English, not include mathematical notations and must contain the following:
• Paper/proposal title
• Abstract of not more than 200 words
• Author(s) name(s), Organization, full mailing address, email address, with an indication of author(s) presenting the paper
• Topic (at most three, chosen from the Conference Topics List) under which paper falls and additional topics if not included in the list.
Email to
orsp7thnationalconference@yahoo.com
or to the ORSP secretariat at
secretariat@orsp.org.ph.
Paper Competition
To join the competition for the Best Paper Award, authors must submit a full paper of at most 6 pages in addition to the abstract. Finalists will be invited to present in a special plenary session where the judges will choose the winner.
Poster Presentations
Papers for poster presentations are also invited. Posters will be on display for the duration of the conference. At a specific time slot, presenters should be available to answer questions from the participants. The poster should contain: Title, Author name/s, Abstract (200 words max), Introduction, Methodology and Results, Conclusion, Recommendations, and References. Authors can email their posters (MS Powerpoint) to
orsp7thnationalconference@yahoo.com
by Sept. 16, 2013. Powerpoint templates 32" wide x 40" tall are available at http://www.writing.engr.psu.edu/posters.html. Authors of accepted posters will be required to print their poster in 32" wide x 40" tall tarpaulin.
Program Schedule
7:30 am

Registration

8:30 am

Paper Competition

10:00 am

Coffee Break

10:15 am

Plenary Speeches

12:30 pm

Business Meeting
Lunch

1:30 pm

Parallel Paper Sessions

3:00 pm

Break
Poster Presentations

4:00 pm

Parallel Paper Sessions

5:30 pm

Awarding of Prizes
Fellowship
Important Dates

Deadline for abstract submission:

September 23, 2013
Notification of acceptance:
September 30, 2013
Deadline for early registration and
Deadline for author registration:
(for inclusion in Abstract book)

October 15, 2013

Registration Details
ORSP Member

Others

Early Registration

PhP 3,000

PhP 3,500

Regular

PhP 4,000

PhP 4,500

Student

PhP 2,750

PhP 3,000

Foreign Participant

US $150
Student rate is only applicable to undergraduate students.

Reservation/ Payment Methods:
1. Payment may be deposited directly to BDO Account No. 00151 0028 666 under the name of Operations Research Society of the Philippines (please do not abbreviate). Please fax your deposit slip with your registration form.
2. You may also issue a crossed check payable to the Operations Research Society of the Philippines (please do not abbreviate) and bring or mail to the office address below. Your receipts will be ready for pick up during the conference at the latest.
3. You may choose to apply for/renew your membership to avail of the member rates. Contact Jenny Alzate, telefax 02 439 9496; mobile 0927 877 5219; e-mail
secretariat@orsp.org.ph
for any inquiries.