Technical Forum Tackles Power and Implications of Social Media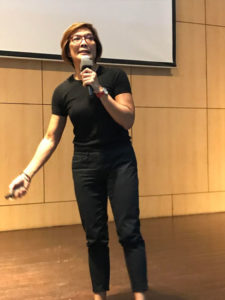 ORSP technical forum for 2017 featured three speakers who spoke on the Big Data that comes from Social Media and how this has been used to market products and assess consumer reactions to products and services. The first speaker, Matec Villanueva, talked about the consumer and the choices that face him or her, the ensuing conversation, collaboration and creation that happens and finally, the data that is generated from all these activities. A marketing professional who is a CNN Consultant and former CEO of Publicis Manila, she kept emphasizing that data must not stay as numbers but must turn into insights.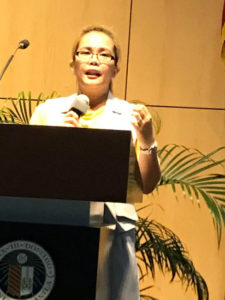 This was the same point made by the second speaker, Cherry Ann Almero, who is currently data scientist at Sun Life Asia Data Analytics Centre of Excellence. She discussed at length the various levels of maturity of analytics, starting from Descriptive (what) Diagnostic (answers why), Predictive (goes into forecasting) and Prescriptive (the area of Operations Research). She stated how the internet has transformed taxis into Uber, bookstores into Amazon, travel agents to Expedia, Hotels into Air B&B's, TV programs into Netflix and Records into Spotify. With the availability of data coming from these internet applications, social media has enabled conversion of opinions into data.
How sentiments are translated into data and how these are analyzed was the topic of the third speaker, Eugene Rex Jalao. He is currently a professor at the Department of Industrial Engineering and Operations Research, UP Diliman and obtained his Ph.D. in Industrial Engineering from Arizona State University (ASU), specializing in Decision Support Systems, Business Intelligence, Data Mining and Systems Simulation. In his talk, he immediately dove into the details of text mining, web mining, and finally, social media sentiment analysis. He described how messages on social media are being converted into positive and negative opinions of the product or service. He touched on the quintuple of opinion, consisting of the object of opinion, feature of the object, orientation or polarity of the opinion on the feature, the opinion holder and the time when the opinion is expressed. The opinion orientation can be positive, negative or neutral. The speaker showed samples of sentiment analysis he made for Samsung,/IPhone, and PAL/Cebu Pacific.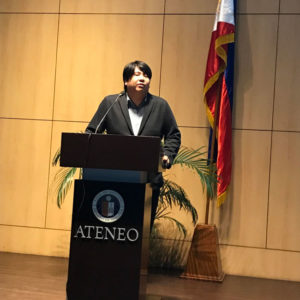 ORSP Directors Malu U, Vic Reventar and Elise del Rosario moderated the proceedings. Almost two hundred participants from various sectors as well as students and professors from TIP-Q.C., Colegio de San Juan de Letran, Mapua Institute of Technology, UP Los Baños, University of Makati, Ateneo de Manila, Cavite State University and University of the Cordilleras found the technical forum very informative and gave it a very positive feedback.